1.初中新目标英语作文话题
1.My family 我的家Hello, everyone, I'm Liu Dongdong. I'm a student. There are three people in my family—my father, mother and I.My father is 40 years old. He is a worker. I think he is a good worker. Because he works very hard. He gets up very early every day and he works for more than 10 hours a day. So he is always busy, he looks very tired when he gets home. He likes reading newspapers. He usually reads it after supper. So he gets lots of news.My mother is 38 years old. She is a worker too. She works in a very small factory. She is not tall and she has two big eyes. She loves me and she is good for me. She always buys some books for me. She wants me to be a top student. She also cares for my diet and life.I' m 15 years old. I wear glasses. I like reading. I always read books after school. I like singing, too. My favorite singer is Jay Chou. His music is very nice. What do you think of him? I also like making friends. If you want to meet me, please write to me.Oh, my parents love me and I love them, too. My family is a happy family.2.My Hometown 我的家乡In the east of China, there is a small city---Haimen. I was born there. Today, I am telling you about my hometown. Haimen is not far from Shanghai. It's at the mouth of the Changjiang River. Haimen is a modern city. There are lots of high buildings in it. Most of us live in flats. We like to live in flats because we can be close to our friends. In the center of Haimen, there are many shops. You can buy some nice things here. Things in most shops aren't expensive. You can pay a little money and they are yours. My hometown is a beautiful city. On each of the roads, there are some big trees and nice flowers. The roads are also very clean. They make people happy and comfortable. The seasons here are very nice. I like autumn best. It's neither hot nor cold. A poem says "Flyer of summer come to my window to sing, then fly away. And yellow leaves of autumn, which have no songs, just fall there with a sign." It's very cool.I love Haimen. It's a nice place to live. Welcome to my hometown.3.A Trip To Shanghai 一次去上海的旅行I took a trip to Shanghai with my mother during the seven-day holiday. It took us more than two hours to drive to Shanghai from my home in Haimen. We stayed in a large hotel on the eighth floor. On the first day, I just stayed in the hotel and rested. On the second day, my brother and I went to Nanjing Road. It's the busiest street in Shanghai. When we got there, there were lots of people. We walked from one shop to another. I bought two T-shirts and two pairs of trousers for the coming summer. The T-shirts and trousers I bought are all white because white is my favourite colour. My brother also bought some clothes. On the third day, my mother took me to Jinjiang Entertainment Centre. It was full of people. I played many kinds of games there. I had a good time. The other days, I went to some other interesting places, such as the Oriental Bright Pearl TV Tower, the Huangpu River and Shanghai International Conference Centre. I didn't forget to do my homework in the evening. I had a full and happy holiday.4.To introduce myself 自我介绍Hello, everyone! My name is Winnie. I'm a 15 years old girl. I live in the beautiful city of Rizhao. I'm an active, lovely, and clever girl. In the school my favorite subject is math. Perhaps someone thinks it's difficult to study well. But I like it. I believe that if you try your best, everything can be done well. I also like sports very much. Such as, running, volleyball and so on. I'm kind-hearted. If you need help, please come to me.I hope we can be good friends! OK. This is me .A sunny girl.5.The Way to Keep Healthy 保持健康的方法It's important for us to be healthy all our life. We can't study or work well without healthy body. there're many ways to keep healthy. First of all, we should keep taking exercises every day. We can walk to school instead of taking a bus. After school, we can spend an hour playing ball games. If we live in a high-rise, we can walk upstairs or downstairs. Second, we should have a balanced diet. Finally, we must remember: "Early to bed, early to rise is the way to keep healthy, wealthy and wise." 6.The Importance of Electricity 电的重要性 When you go to work in the morning and find that traffic lights don't work, the traffic jam will certainly happen. A patient needs to be operated on at once. What will happen if the operation cannot be made because of the electricity. Without electricity, we can neither watch TV, listen to the tape, nor chat on line. Electricity is closely related to our daily life. How terrible it would be if there were no electricity! 7.Theres No Story without 。
2.中考英语作文范文十篇
1) It's our duty to save water(节约水是我们每个人的责任。)
As we know , water is very important to man, (我们知道,水对人类来说是非常的重要。)we can't live without water. (没有水我们就不能生存。)
The amount of water which is suitable to drink is less and less. (适合人类喝的水是越来越少了。)But some people don't care about it .(但是有些人却不关心或不在意。)
They waste a lot of water in their daily life. (日常生活中他们浪费很多水。)Even worse, they pour dirty water in to rivers.(更糟糕的是他们排放污水到河流里。)
They throw rubbish into rivers , too. (他们还乱扔垃圾到河流理去。)Many rivers and lakes are seriously polluted.(很多河流湖泊已经受到严重污染。)
Something must be done to stop the pollution. (人类必须采取一些措施来制止污染。)Only in this way can we live happily.(只有这样,我们才过得幸福开心。)
If we don't save water, the last drop of water will be a tear-drop of us.( 如果我们不节约水,那么最后一滴水也许会是我们人类的眼泪) 2) Planting trees Trees are very helpful and important for us. (树对我们人类是多么的重要和有用。)We should plant more and more trees in order to live better and more healthy in the future. (为了将来我们的生活过得更好、更加健康我们应该种更多的树。)
It's everyone's duty to love and protect the environment.(爱护和保护环境是每个人的责任和义务。) 3) 旅游介绍 预览摘要: 北京奥运会期间,有一大批外国人来北京参观。
假设你是导游,请根据以下内容,向外宾简单介绍北京的情况。 要求: 1. 100 词左右; 2. 要点包括: a. 有悠久的历史b. 有许多名胜古迹 Ladies and gentlemen,(女士们、先生们) Welcome to BeiJing, now let me introduce Beijng to you.(欢迎到北京,我来介绍北京给大家。)
Beijing is a city with a long history. It is in the north of China. It has a population of 13,240,000.(北京是一个历史悠久的城市,它位于中国的北部,人口13.240.000) There are many places of interest in Beijing, such as the Summer Palace and so on.(北京有很多名胜古迹,象颐和园等等。) The Great Wall is a beautiful place.( 长城是个漂亮的地方。)
.There is a saying that he who has never been to the Great Wall is not a true man. (有句谚语说:不到长城非好汉)The water in Miyun Reservoir is clean and not polluted. (密云水库的水很干净没有受污染。)There are all kinds of fish in it. (里边有各种各样的鱼。)
You can go boating, go fishing and have a picnic there.(那里你可以划船、钓鱼或者野炊。) It is really a good place to spend your holiday. (那里真是个度假的好地方。)
Besides, you can go and visit Beijing Museum. (此外,你还可以去游览北京博物馆。)There you can see a lot of dinosaur egg fossils.(那里你可以看到很多恐龙蛋和化石。)
I hope you can enjoy yourselves in Beijing.(我希望大家在北京玩得开心快乐。) Thank you.(谢谢) 4)、近日,你班在"知荣明耻" "八荣八耻大家谈"教育活动中,召开了一次关于学生荣辱观的主题班会。
存在的问题1.不尊敬老师、家长等。2.学习散漫、考试作弊等。
3.乱扔垃圾、污损环境等等。 Recently we have held a class meeting to discuss what is considered to be honorable behavior and what is shameful. (最近我们班开了个班会讨论什么是光荣和耻辱。)
It is really a pity to see all this in our school.(很遗憾在学校看到这些现象)Some students don't respect their teachers or parents. (不尊敬老是和父母)Some don't take their studies seriously and cheat in exams. (作业不认真,考试作弊)Some throw wastes everywhere and pollute the environment . (到处乱扔垃圾污染环境。)It is honorable to obey the law and rules , care much about our class and study hard.(关心班级、努力学习、遵纪守法是光荣)It is shameful to break school rules, to be selfish or to make little effort to achieve success.(违反学校纪律、自私 骄傲是可耻的)We should respect others and think more of them than of ourselves.(我们应该尊敬别人经常关心别人)We should work hard and make much more progress to repay the society.(我们应该努力学习取得更大进步从而回报社会。)
We should try our best to keep the environment clean。(我们应该想方设法保持干净的环境。)
人与环境是和谐相处的,我们生存在地球上,人是自然之子,而不能仅把人看作自然的征服者,大家都知道,人类只有一个地球,地球上的山山水水、动物。植物是人类的细胞,如果我们把它损坏了,破坏了大自然的组织,等 于消灭人类。
因此,环境要与社会公德联系起来,与实践行为作为人格教育的一项重要内容来抓。每个人都要履行保护环境的责任和义务。
Harmony with the environment is that we live in on Earth, who is a natural son, and not only to natural persons as the conqueror, as we all 。
3.初中新目标英语作文话题
1.My family 我的家Hello, everyone, I'm Liu Dongdong. I'm a student. There are three people in my family—my father, mother and I.My father is 40 years old. He is a worker. I think he is a good worker. Because he works very hard. He gets up very early every day and he works for more than 10 hours a day. So he is always busy, he looks very tired when he gets home. He likes reading newspapers. He usually reads it after supper. So he gets lots of news.My mother is 38 years old. She is a worker too. She works in a very small factory. She is not tall and she has two big eyes. She loves me and she is good for me. She always buys some books for me. She wants me to be a top student. She also cares for my diet and life.I' m 15 years old. I wear glasses. I like reading. I always read books after school. I like singing, too. My favorite singer is Jay Chou. His music is very nice. What do you think of him? I also like making friends. If you want to meet me, please write to me.Oh, my parents love me and I love them, too. My family is a happy family.2.My Hometown 我的家乡In the east of China, there is a small city---Haimen. I was born there. Today, I am telling you about my hometown. Haimen is not far from Shanghai. It's at the mouth of the Changjiang River. Haimen is a modern city. There are lots of high buildings in it. Most of us live in flats. We like to live in flats because we can be close to our friends. In the center of Haimen, there are many shops. You can buy some nice things here. Things in most shops aren't expensive. You can pay a little money and they are yours. My hometown is a beautiful city. On each of the roads, there are some big trees and nice flowers. The roads are also very clean. They make people happy and comfortable. The seasons here are very nice. I like autumn best. It's neither hot nor cold. A poem says "Flyer of summer come to my window to sing, then fly away. And yellow leaves of autumn, which have no songs, just fall there with a sign." It's very cool.I love Haimen. It's a nice place to live. Welcome to my hometown.3.A Trip To Shanghai 一次去上海的旅行I took a trip to Shanghai with my mother during the seven-day holiday. It took us more than two hours to drive to Shanghai from my home in Haimen. We stayed in a large hotel on the eighth floor. On the first day, I just stayed in the hotel and rested. On the second day, my brother and I went to Nanjing Road. It's the busiest street in Shanghai. When we got there, there were lots of people. We walked from one shop to another. I bought two T-shirts and two pairs of trousers for the coming summer. The T-shirts and trousers I bought are all white because white is my favourite colour. My brother also bought some clothes. On the third day, my mother took me to Jinjiang Entertainment Centre. It was full of people. I played many kinds of games there. I had a good time. The other days, I went to some other interesting places, such as the Oriental Bright Pearl TV Tower, the Huangpu River and Shanghai International Conference Centre. I didn't forget to do my homework in the evening. I had a full and happy holiday.4.To introduce myself 自我介绍Hello, everyone! My name is Winnie. I'm a 15 years old girl. I live in the beautiful city of Rizhao. I'm an active, lovely, and clever girl. In the school my favorite subject is math. Perhaps someone thinks it's difficult to study well. But I like it. I believe that if you try your best, everything can be done well. I also like sports very much. Such as, running, volleyball and so on. I'm kind-hearted. If you need help, please come to me.I hope we can be good friends! OK. This is me .A sunny girl.5.The Way to Keep Healthy 保持健康的方法It's important for us to be healthy all our life. We can't study or work well without healthy body. there're many ways to keep healthy. First of all, we should keep taking exercises every day. We can walk to school instead of taking a bus. After school, we can spend an hour playing ball games. If we live in a high-rise, we can walk upstairs or downstairs. Second, we should have a balanced diet. Finally, we must remember: "Early to bed, early to rise is the way to keep healthy, wealthy and wise." 6.The Importance of Electricity 电的重要性 When you go to work in the morning and find that traffic lights don't work, the traffic jam will certainly happen. A patient needs to be operated on at once. What will happen if the operation cannot be made because of the electricity. Without electricity, we can neither watch TV, listen to the tape, nor chat on line. Electricity is closely related to our daily life. How terrible it would be if there were no electricity! 7.Theres No Story without Coinc。
4.英语初三作文(人教版 新目标)
New Beijing, Great Olympics
The 2008 Olympic Game has been the most cheerful and anticipated event throughout Beijing ever since Beijing was rewarded the right to host the 2008 Summer Olympic Games, yet the focus should be shifted from making a promise to fulfilling the
promise made.
In my point of view, to bridge the gap between the promise and reality, Beijing still has a long way to go. To begin
with, infrastructure construction should be the primary concern. Such infrastructures as communications and transportation
system and facilities ought to draw our constant attention. First, traffic jam has been an age
5.英语作文30词10篇
1.What fun I had last Sunday! Last Sunday, my classmates and I went to the moutains.We met at the school gate,then we went there by bike.When we got there, the sun was rising.How beautiful it was!We decided to climb the mountains.We played a game to see who was the first one to get to the top.I tried my best,but I failed.We were tiredl,but happy! 2.Last weekend, On Saturday morning I got up at 6;30. After breakfast I did my homework at home. In the afternoon , I played football with my friends on our playgroud. In the evening I watched TV with my parents at home. On Sunday morning I went to visit my grandparents with my mother. In the afternoon I went to go fishing with my grandpa. We had a good time . I went back home with my mother in the evening. What a wonderfu weekend ! 3. My vacation was very fun.I went to World Expo.There were many interesting building about China,Amrica and France.The Chinese building is tall.And I enjoyed beautiful things.I thought my vacation was very substantial. 4.During my vacation,I went to World Expo with my family. While visiting the hall , we fell in with a group of foreign friends.And we talked happily with a volunteer's help.Then we were interested a lot by some fun inventions.In a word,we had a good time in Shanghai,I hope I can spend vacation here once more.5.Last summer vacation, I visited Beijing with my parents,The weather was fine but a little hot.We visitded the Palace Museum,the Great Wall,,Tian'an Men Square and a Beijing hutong,they are all so great and beaitiful.And i enjoyed lots of delicious and cheap food during the days.We also went shopping .My parents bought some beautiful clothes for me.I had a good time there.6. Last summer holiday,My family had gone to HongKong ,At the morning ,my father drive the car to Shenzhen,After the lunch,we take the car to HongKong,HongKong is a center of fanancial.There are many people in there,We just go shopping ,then ,we had a good dinner. The next day ,we gone to the Ocean Park,it was very intersting and wonderful.7.Last summer, I went to a village that was far away from our city. My parents and I went there to visit my uncle.I found it a beautiful place to live. The water was clean in the river, birds were singing in the trees, farmers were working hard in the field, and the moon at night was whiter than that in our town. The village was so nice that I didn't want to come back! 8.Today,we were went to the beach.The weather liked fine.We were swam and played beach volleyball.Our lunch was very delicious.There people were very friendly.We had a great feeling.We also fished many big fish.They were very delicacy.We had dinner in a big restaurant.There were many nice food.We came back home was nine o,clock.9.Last weekend Tony was busy but happy. He did a lot of housework.. He cleaned the room and washed the clothes. Because his mother had to work last Saturday. He did most of the housework for her. His sister had to study for the geography test. They were really busy.10July 22th Thursday sunnyToday I came to the city of Bishan,it's a beautiful city.It's the shoes centre of western china. I think many people know it. It developed very quickly these years.More and more people move in it. I'm pleased to be a Bishan people.July 26th Monday sunny Hello, everyone! I'm so pleased to tell you: I have finished my website.。
6.中考满分英语作文带翻译20篇
The Winter Holiday
We are going to have the winter holiday.During the holiday we will have the Spring Festival.So all of the families in China are having a busy time.All of the children in China like Spring Festival very much,because they can eat many delicious food and get many money.But children in China have to do the homework for Winter Holiday.So that the could remember what they have learn the year before.Each of the children likes Winter Holiday.
我们即将放寒假,在寒假期间,我们将要过春节,所以所有中国家庭都十分忙碌,所有的中国孩子都十分喜爱春节,因为他们可以吃很多好吃的食品和得到很多的压岁钱,但是中国孩子必须在寒假里做作业,以便他们能够记住他们以前学的东西,每个孩子都喜欢寒假!
14中考满分作文。
7.英语中考作文范文10篇及录音
One possible version:
Hi! Alice,
I'm glad to hear from you.
Yes, I sometimes have the same problem.
I think if she really needs the money, you'd better lend it to her. You don't need to worry too much. She'll probably pay you back when she has money. If you don't lend her the money, I'm afraid you may lose the friend.
I think everyone may have trouble in life and we should help each other. So when my friends need money, I will try my best to help them. Maybe I'll get it back, or maybe I won't.
I hope what I said can help you.
Yours, Liu Ming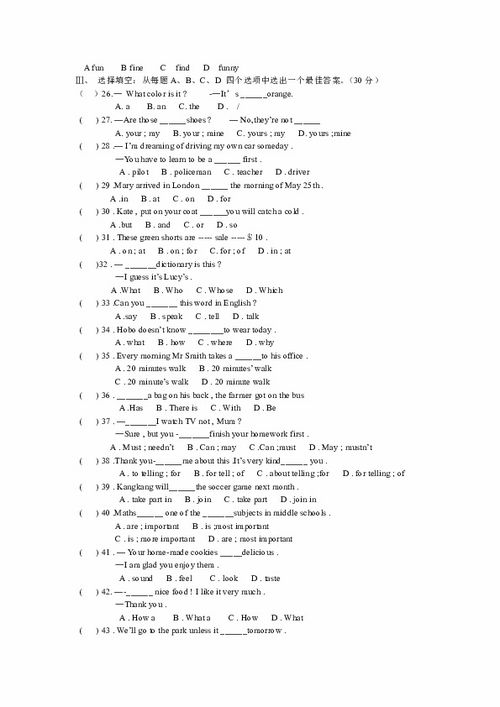 转载请注明出处奋进范文网 » 中考英语作文范文30篇新目标(初中新目标英语作文话题)